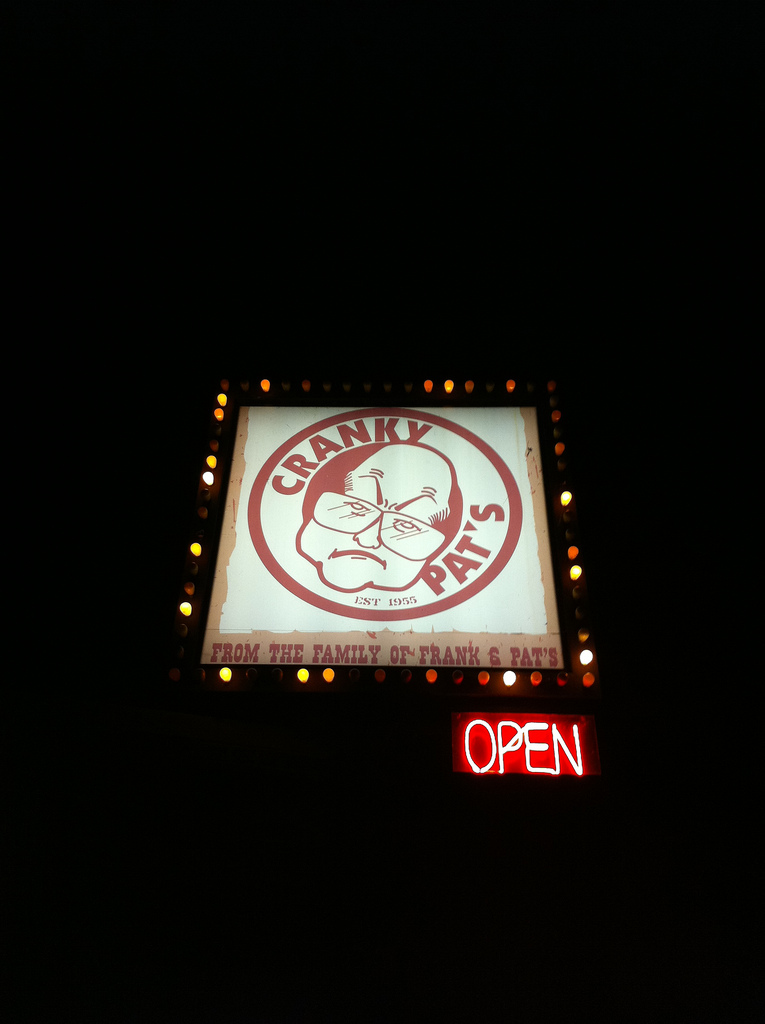 Pizza is such a tough subject — it's almost like religion and politics. People are very VERY vehement about their style of pizza and preferred locations for the best pizza. Recently, a question was poised on Reddit: "Where can I find the best pizza in Green Bay?" — the results are pretty surprising.
Cranky Pat's 
Cranky Pat's was the hand's down winner in the race for best pizza. Considering that this is Grief Bacon HQ's favorite pizza as well, I'm not surprised. What did surprise me is that most of the Redditors cited our favorite toppings — mushroom and cheese. Fantastic food, as long as you don't get that one chef that always burns the pizza. This started out as Frank & Pat's Pizza on Green Bay's east side, but now has locations on Green Bay's west side, as well as in Neenah and Oshkosh. Whoa, watch out or Cranky Pat's is going to turn into a chain.
Sammy's 
Sammy's came in a close second. This might be a West Side versus East Side thing, honestly. Both Sammy's and Cranky Pat's pizzas are very close in style — crispy, thin crust pizza. In Grief Bacon's personal tests, Sammy's has the edge on cheese quality (it gets liquidy and melty, with generous loads of cheese) and flavor (mmm… salt) but there's a diminishing returns as that cheese grease turns that wafer crust into smushy wet dough. Regardless, Sammy's is a clear fan favorite — and their non-pizza offerings are pretty special too.
Rustique in Little Suamico
Grief Bacon testers haven't tried Rustique in Suamico yet, but the word around town is that this place is a foodie haven. From Green Bay Redditor ZomBrains  "Try the Mac n' Cheese Pizza with a side of Pesto Fries". Definitely not a hard working blue collar kind of fare like Cranky Pat's or Sammy's — which is precisely what the Green Bay pizza scene needs, in our opinion.
Happy Joe's 
Nostalgia kicks in for Happy Joe's big time on the Green Bay subreddit, particularly for the taco pizza. Oh, that taco pizza is amazing, absolutely agreed, but I also enjoy some of their more unusual offerings, like the pizza with sauer kraut on it (don't knock it until you try it).  It's best to go on a Happy Joe's buffet night to try the variety. You may have to elbow a few screaming six year olds out of the way when they swarm the place looking for quarters to feed their skeeball obsessions.
Sgambati's
You know what's the worst part about Sgambati's New York Pizza? That it's all the way out in West De Pere — DEEP West De Pere — and Grief Bacon HQ is located out near Baird's Creek in far east Green Bay. Almost exactly the furthest you could possibly get from delicious Sgambati's and most certainly outside of their delivery zone. Sounds like Sgambati's has a good opportunity to relocate near UWGB and make some fabulous college kid money — not to mention all the new money living in those subdivisions off Bay Settlement. You don't think the Red Smith middle school moms are sick of Green Bay Pizza Co? You'd be mistaken.
One Vote Wonders
Several Green Bay-area pizza joints received just a single mention in the Reddit poll. Here they are, in no particular order:
Glass Nickel
This pizza chain received a single vote in the poll. Having had Glass Nickel a time or two, the best things about this place are the actual Not Pizza items, but the pizza is certainly not bad either. Unfortunately, the one time we ate in the actual location was so terrible that I didn't even bother writing a Yelp review because I was certain that the bad service was a weird fluke with new staff or something. Like, it was THAT bad and no one even apologized, and in fact, seemed to insinuate that they screwed up the order but I should be happy with what I got anyway. So, I'm bitter, but still willing to give them another chance.
Old Chicago
Another single vote-getter, I'm actually quite a fan of Old Chicago's pizza, even though it's a chain and not a local joint (which I'm biased toward in general). It's a little reminiscent of how I felt about old school Pizza Hut deep dish pizza (which doesn't exist anymore). The crust is super lacy and golden, the dough is light and springy and the sauce has just a bit of spice to cut through the richness of the cheese and the crust. Plus, I enjoy sitting in the bar area, drinking hard cider and watching various sports — and Old Chicago is one of the few places in town to do that. Okay, you can watch sports at a LOT of places, but NOT while drinking hard cider or Peary.
Green Bay Pizza Company
Given its proximity to Grief Bacon HQ, we're pretty familiar with the GB Pizza Company product. In fact, for years, Green Bay Pizza Company was our very favorite Go To pizza happy time. But then the employees started getting lazy — when you'd call for an order, they sounded bored and like they didn't care, and were unwilling to really look up prices or even get the order right (We won't speak of the Onions Instead Of Mushrooms Incident of '06), so they're crossed off our list. Maybe we should give them another try, since they made the list.
Oley's Pizza Cannoli  
This east De Pere venture seems to be fairly new. I haven't tried it. Have you? Leave a comment and let us know what you think. For now, it's on Grief Bacon's list of places to check out.
Billoti's in De Pere
Billotti's has been around De Pere for so long that you practically forget it exists. Like Sammy's is to West Siders and Cranky Pat's is to people east of the river, Billotti's is the go to for the old school De Pere denizens. It scored one vote on Reddit, and honestly, we haven't been there in twenty years, so I don't feel confident commenting on it. Clearly we'll have to amend that issue promptly.
Gallagher's
A favorite of office managers around town, Gallagher's is known for its ginormous pizzas and the chicken spinach thing, which is actually pretty good. As pizzas go, however, Grief Bacon is on the fence — it's just okay. Only one Redditor called it out in the poll, but I do wonder if it wasn't by virtue of the weekday lunch buffet, which is a favorite of many a dude looking for unlimited 'Za. Their breadsticks, though? LOVE their breadsticks, which are deepfried instead of baked. Mmm… extra calories.
Rosati's
Rosati's only received one vote for best pizza, which is surprising, as Rosati's is another favorite at Grief Bacon HQ. Thin crust is better than their regular crust, in my opinion, and their regular menu is pretty tasty, especially their salads.
File under "Why even bother?"
A few Redditors seemed to be aiming low — or have finicky tastes that are only appeased by mediocre babysitter-worthy pizza:  Domino's, Papa Murphy's Take and Bake, and Sbarro's in the mall. Seriously, guys, there's so much better out there than this. Your life is worth more than Sbarro's.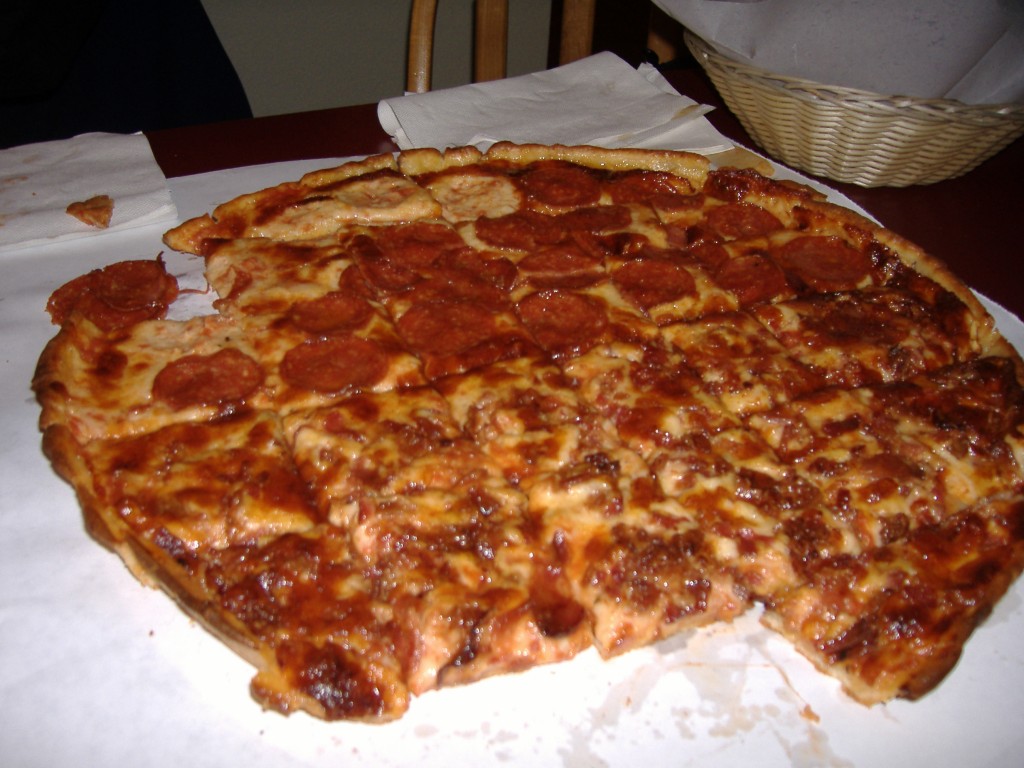 Gone but not forgotten
It's possible that the very best pizza in Green Bay isn't even available anymore, or perhaps our nostalgia has tinged our memories of happy times. The Green Bay pizza scene has changed considerably — Godfather's Pizza only exists in gas stations now, Rocky Roccoco's was gone, back again and gone again (despite being a much loved Wisconsin-based pizza chain) and T.J's Pizza is a parking lot for a dry cleaner.  Just the same, a few pizza memories were sparked on our Best Pizza in Green Bay survey.
Jake's Pizza
Jake's Pizza had very long run in the Green Bay pizza scene — at least three decades long. Obviously, you don't have that kind of longevity without earning more than a few fans. Understandably, the original "Jake" wanted to retire, so he sold the business to someone he thought would retain the spirit of the place in the late 2010's. Unfortunately, the quality suffered shortly after "Jake" left and the place shuttered for good without any warning at the end of 2012. But before the changeover, the pizza was amazing. Jake's pizza was so good fresh from the paper bag and then even better the next morning cold out of the refrigerator. I've never had a pizza that I loved cold as much as Jake's Pizza. Somehow the crust didn't get tough, it just got softer, and the high level of cheese grease kept it from drying out overnight.was mentioned as being very missed. I've heard rumors, both online and on Jake's Facebook group — that Jake's is about to make a return to the Green Bay pizza scene. We'll see.
Rock-A-Billy's
Called "gimmicky" by a few, Rock-A-Billy's was certainly unusual in terms of the typical Green Bay food scene. One Redditor commented "So many excellent and unusual flavors; General Tso's, Crab Rangoon, Thai Chicken." Alas, Rock-A-Billy's closed before I ever got to try the famed General Tso's pizza.
Flying under the radar
There were a few conspicuous absences in the Green Bay pizza round up. Not a soul was willing to vouch for Papa John's, Pizza Hut, Topper's, Little Caesar's, Pizza Ranch on the east side, Figaro's in Howard, Luigi's in Bellevue, Marco's on Military, or Josephine's in Howard.
While I'm not surprised that chain restaurants like Papa John's or Little Caesar's didn't rank, I'm a little surprised that Luigi's wasn't on the list, as it's such a local favorite. I remember what a treat it was to haul all the way out to Sobieski for Luigi's back before they moved further south (now there are Luigi's pizza places in more locations). I'm also a little surprised that Josephine's isn't on this list — their pizza is pretty decent, although their garlic knots and pastas are probably better than the pizza itself.
Now it's your turn: What's your favorite pizza? Which pizza doesn't deserve to be on the top list? Which is better — Bilotti's, Sammy's or Cranky Pat's? Chime in on the comments and let's settle this once and for all.